Regular price
Sale price
$97.00 USD
Unit price
per
Sale
Sold out
Congratulations, you just met your new, complete tampon and single-use pad replacement! Ideal for zero-waste period newbies or first-time nookees, THE KIT is an all-inclusive sustainable menstruation bundle that will make managing your flow a breeze. No stress. No leaks. No chemicals. No odour. 
nookees THE KIT includes:
1 PANTY made of breathable, buttery-soft lyocel
3 organic cotton reusable period PADS (light, medium, heavy flow - we've got you covered for your whole period)
1 big satin POUCH with waterproof moleskin interior that looks a lot like a suspiciously cute, little laundry bag
1 small, easy-to-carry, 100% organic cotton POUCH, made out of the same waterproof inlay like the satin bag, to store your used nookees PADS while on the go
THE KIT is mindfully created to be great for your body and good for the environment. Less waste, more comfort – and sass.
Materials

It took us a while to find the best fabrics to create the best products. So here we proudly present:

THE PANTY:

94% lyocell, 6% elastan (fabric)
90% polyamid, 10% elastan (waistband)

THE PAD:

100% organic cotton
PUL (only splash version)

THE POUCH:
Shipping & Returns

Shipping:

Your shipping costs will automatically be calculated during checkout, as they vary on your location and size of the parcel (in between 5,90 € and 12,90 €). 

We ship to many countries and also overseas. You can see if we ship to your country at checkout, as well as the shipping costs.

We ask our customers to inform themselves about import taxes and duties in their home country, as these must be borne by the customer.

Returns:

To return items please send us an email to janina@nookees.com.

You have the right to return the unused goods within fourteen days without giving any reason. The withdrawal period is fourteen days from the day on which the goods were delivered to you. 

In the case of a defective product we will refund the purchase price and take over the return costs, in all other cases the customer has to pay the return costs. If you have received a defective product, please contact us.

Returns from Switzerland and other non EU countries:

Any additional costs such as customs clearance fees or cash on delivery costs and the collection of packages from the customs office will not be paid, we do not accept such packages. Please make sure that you register your return with customs for free circulation under customs and tax law or pay customs beforehand when returning something to us.
Dimensions

nookees THE PADS have different lengths, depending of the different layers:

Light: 26,5cm

Medium: 27,5cm

Heavy/ Splash: 28,5cm

nookees THE PANTY comes with a comfortably sizing of underwear, which means if you're in between two sizes, go for one size smaller then your regular underwear.

Other option: measure your hips and follow our measurements: XS (hip: 89-94cm), S (hip: 95-97 cm), M (hip: 98-104 cm), L (hip: 105-108 cm), XL (hip: 109-118 cm), XXL (hip: 119-124 cm).
Care Instructions

To take care of your nookees, we recommend the following treatment:

THE PANTY:

40°C
don't use softener or bleach
hang dry
wash before first use

THE PAD:

60°C
don't use softener or bleach
hang dry
wash before first use

THE POUCH:

40°C
don't use softener or bleach
hang dry
wash before first use

As our fabrics are just rad, you could wash THE PADS even with 95*C. But a.) you don't need to wash them that hot and b.) it's not good for the environment. So we personally prefer to rinse THE PADS in cold water after use. On laundry day nookees wander into the machine and get tumbled with the rest of any clothes. Hang them dry (with the hanger of THE POUCH) and use them again. And again. And again…
Share
View full details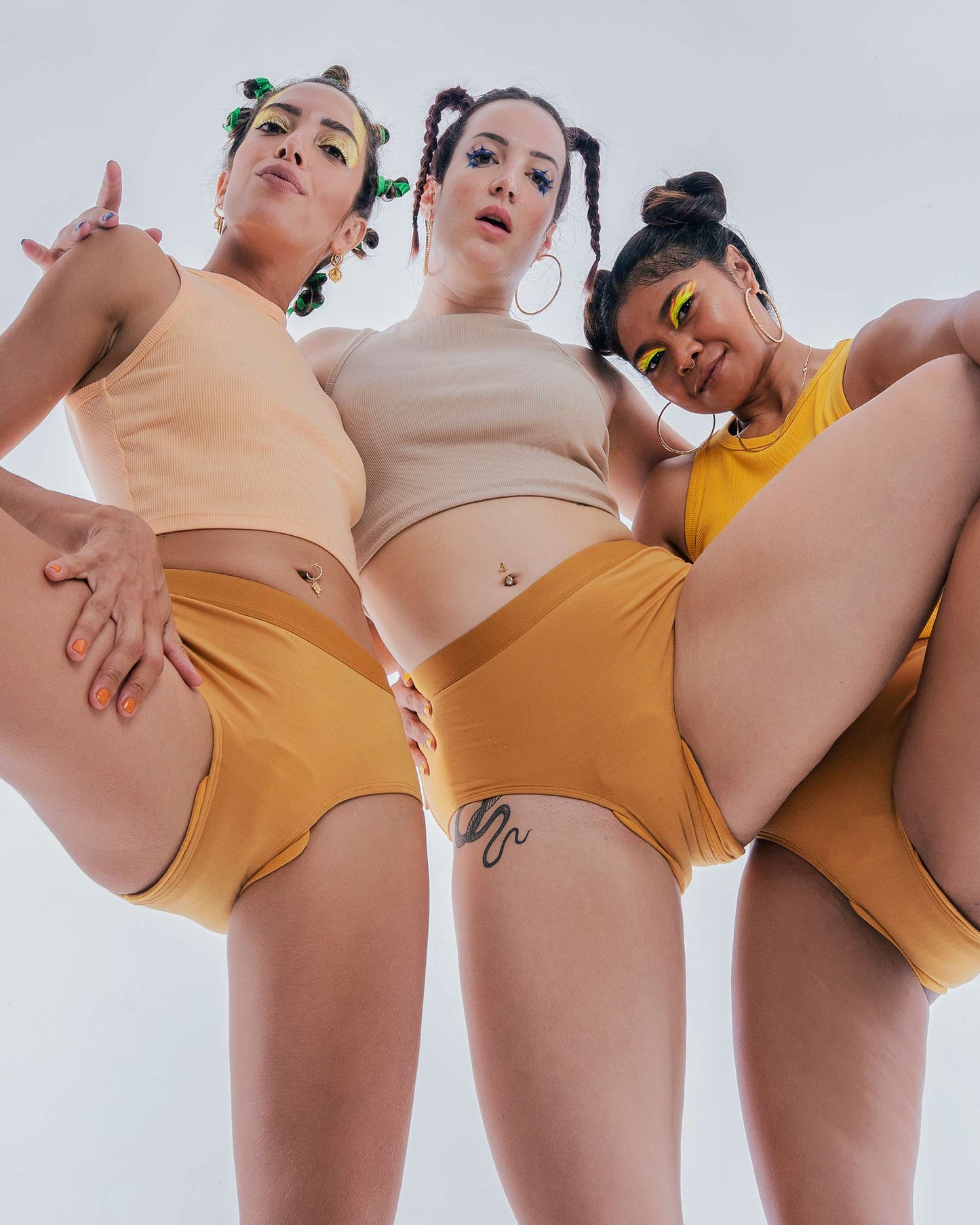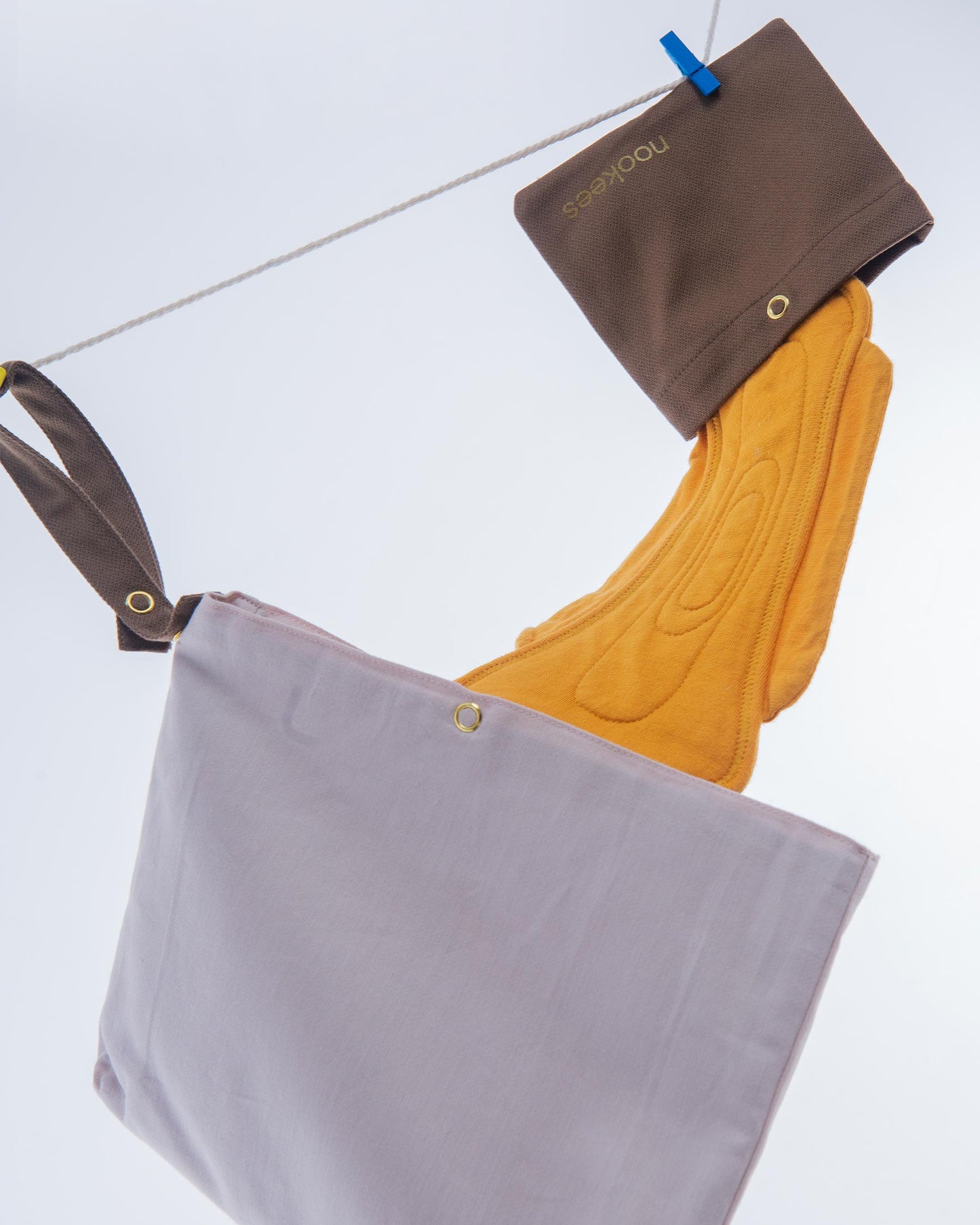 Are nookees organic?

nookees THE PADS are made out of 100% organic cotton. The fibre of the lyocel we use for THE PANTIES is made out of cellulose, a natural component of wood. It's biodegradable and at the end of its life cycle, the fibers can re-enter the eco-system.

Want to learn more...

Why do you use snap buttons?

Because they hold nookees PADS right and tight on the spot where they belong. Believe us, we tried so many different versions on how to stick nookees pads into THE PANTY. And the snap buttons we chose are definitely the safest ones to use.

... and more
Combine it

THE PAD and THE PANTY. nookees period underwear comes with two components. Double safety, double flexibility.

Click it

3 little buttons - and every bloody thing will be alright. Go for THE PAD you fancy and click it inside of THE PANTY.

X-Change it

Nothing can move. But everything can change. Use it - wash it - and do it all again. Your new PAD is just 3 clicks away.