Regular price
Sale price
$98.00 USD
Unit price
per
Sale
Sold out
Congratulations, you just met your new, complete tampon and single-use pad replacement! Ideal for zero-waste period newbies or first-time nookees, THE KIT is an all-inclusive sustainable menstruation bundle that will make managing your flow a breeze. No stress. No leaks. No chemicals. No odour. 
nookees THE KIT includes:
1 PANTY
made of breathable, buttery-soft lyocel
3 organic cotton reusable period PADS
light, medium, heavy flow - we've got you covered for your whole period

1 big satin POUCH
with waterproof moleskin interior that looks a lot like a suspiciously cute, little laundry bag
1 small, easy-to-carry, 100% organic cotton POUCH
made out of the same waterproof inlay like the satin bag, to store your used nookees PADS while on the go
THE KIT is mindfully created to be great for your body and good for the environment. Less waste, more comfort – and sass.
Materials

It took us a while to find the best fabrics to create the best products. So here we proudly present:

THE PANTY:

94% lyocell, 6% elastan (fabric)
90% polyamid, 10% elastan (waistband)

THE PAD:

100% organic cotton
PUL (only splash version)

THE POUCH:
Shipping & Returns

Shipping:

Your shipping costs will automatically be calculated during checkout, as they vary on your location and size of the parcel (in between 5,90 € and 12,90 €). 

We ship to many countries and also overseas. You can see if we ship to your country at checkout, as well as the shipping costs.

We ask our customers to inform themselves about import taxes and duties in their home country, as these must be borne by the customer.

Returns:

To return items please send us an email to janina@nookees.com.

You have the right to return the unused goods within fourteen days without giving any reason. The withdrawal period is fourteen days from the day on which the goods were delivered to you. 

In the case of a defective product we will refund the purchase price and take over the return costs, in all other cases the customer has to pay the return costs. If you have received a defective product, please contact us.

Returns from Switzerland and other non EU countries:

Any additional costs such as customs clearance fees or cash on delivery costs and the collection of packages from the customs office will not be paid, we do not accept such packages. Please make sure that you register your return with customs for free circulation under customs and tax law or pay customs beforehand when returning something to us.
Dimensions

nookees THE PADS have different lengths, depending of the different layers:

Light: 26,5cm

Medium: 27,5cm

Heavy/ Splash: 28,5cm

nookees THE PANTY comes with a comfortably sizing of underwear, which means if you're in between two sizes, go for one size smaller then your regular underwear.

Other option: measure your hips and follow our measurements: XS (hip: 89-94cm), S (hip: 95-97 cm), M (hip: 98-104 cm), L (hip: 105-108 cm), XL (hip: 109-118 cm), XXL (hip: 119-124 cm).
Care Instructions

To take care of your nookees, we recommend the following treatment:

THE PANTY:

40°C
don't use softener or bleach
hang dry
wash before first use

THE PAD:

60°C
don't use softener or bleach
hang dry
wash before first use

THE POUCH:

40°C
don't use softener or bleach
hang dry
wash before first use

As our fabrics are just rad, you could wash THE PADS even with 95*C. But a.) you don't need to wash them that hot and b.) it's not good for the environment. So we personally prefer to rinse THE PADS in cold water after use. On laundry day nookees wander into the machine and get tumbled with the rest of any clothes. Hang them dry (with the hanger of THE POUCH) and use them again. And again. And again…
Share
View full details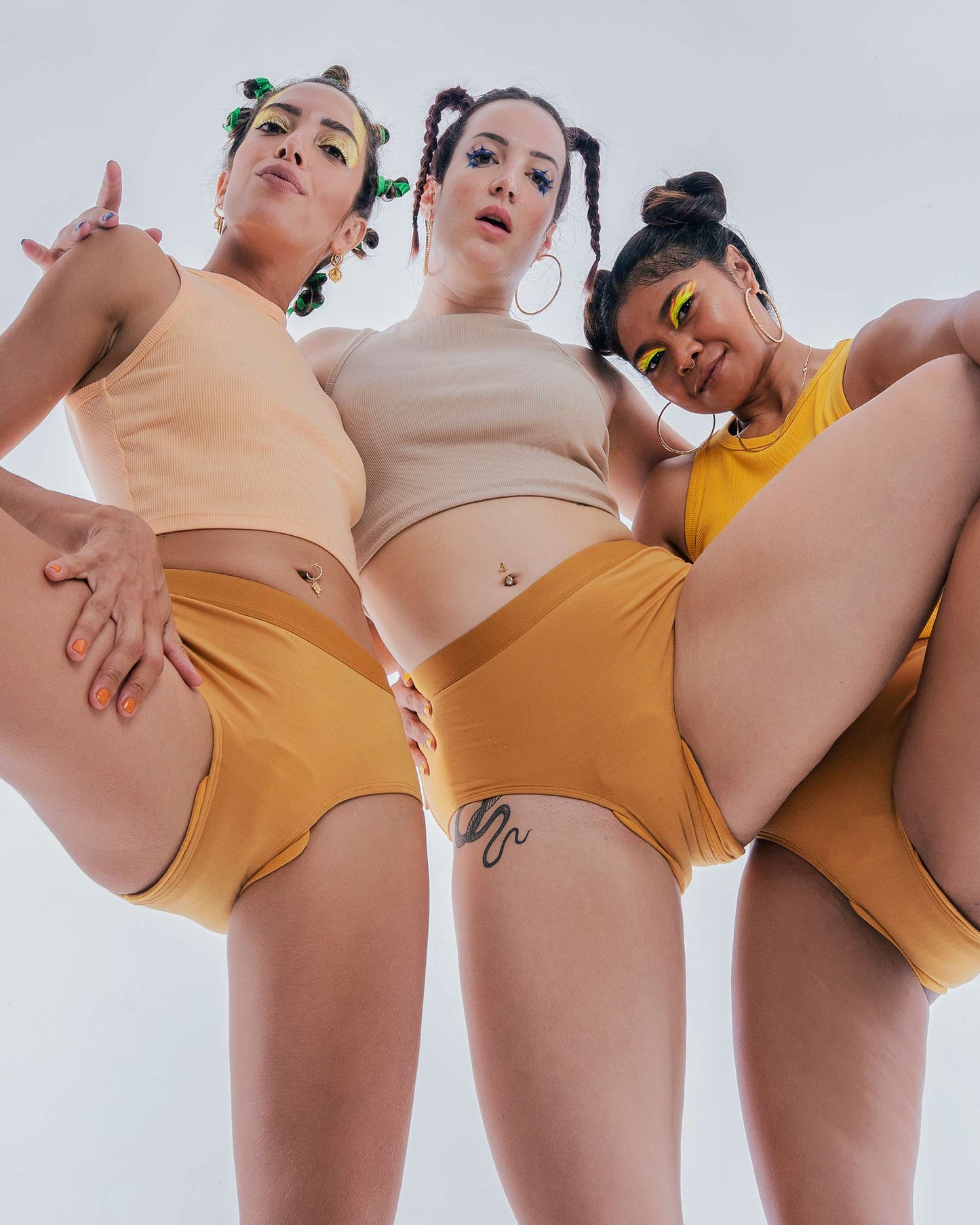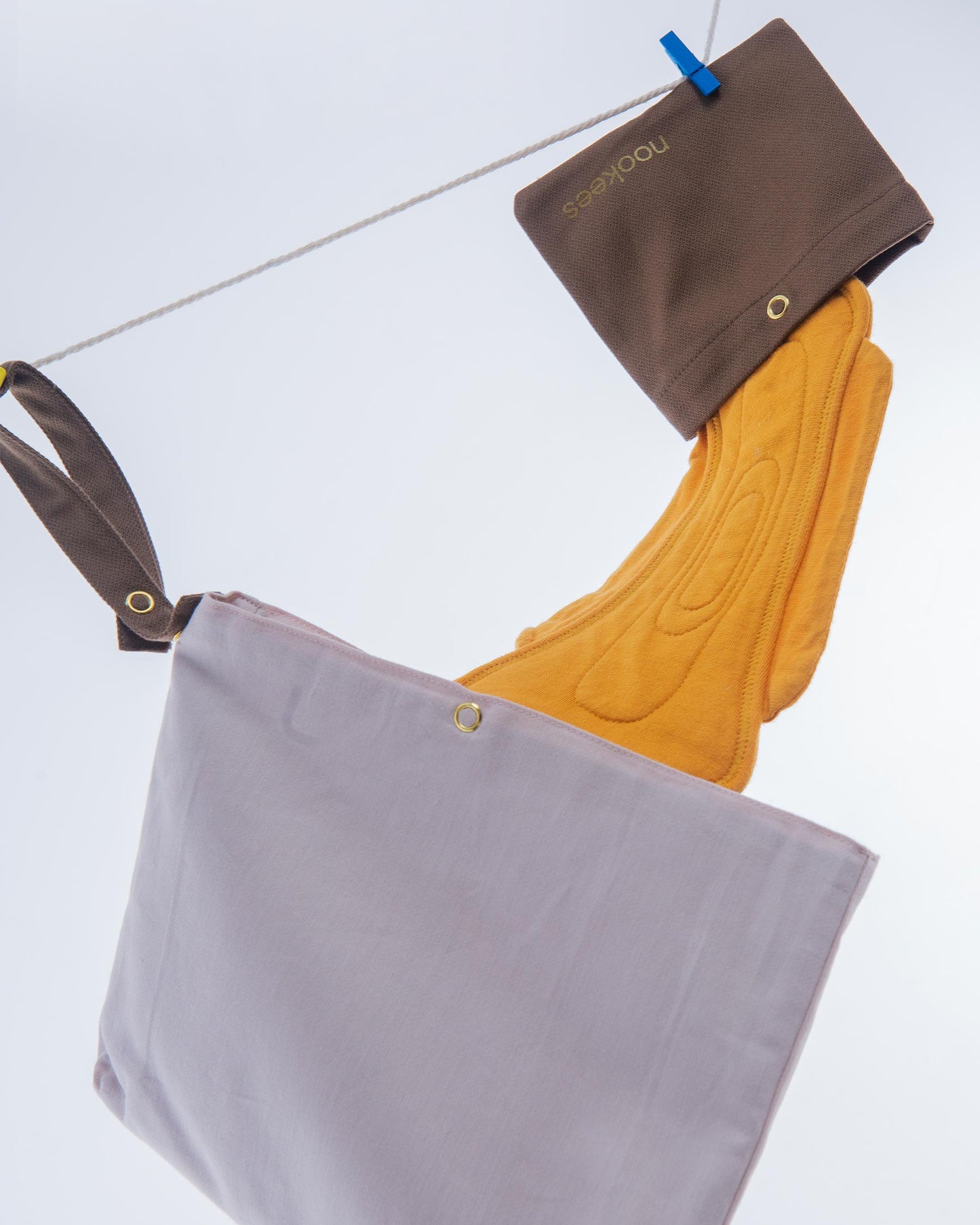 Are nookees organic?

nookees THE PADS are made out of 100% organic cotton. The fibre of the lyocel we use for THE PANTIES is made out of cellulose, a natural component of wood. It's biodegradable and at the end of its life cycle, the fibers can re-enter the eco-system.

Want to learn more...

Why do you use snap buttons?

Because they hold nookees PADS right and tight on the spot where they belong. Believe us, we tried so many different versions on how to stick nookees pads into THE PANTY. And the snap buttons we chose are definitely the safest ones to use.

... and more
Combine it

THE PAD and THE PANTY. nookees period underwear comes with two components. Double safety, double flexibility.

Click it

3 little buttons - and every bloody thing will be alright. Go for THE PAD you fancy and click it inside of THE PANTY.

X-Change it

Nothing can move. But everything can change. Use it - wash it - and do it all again. Your new PAD is just 3 clicks away.
Game changer!
I can't belief I'm actually almost looking forward to my period days. My washed nookees ready in the closet gives me a good feeling. After so many years of tampons and single use pads full of toxins, plastic, bleach, I promised my lady parts to only expose them to non-toxic materials. And to soft, comfy fabric. Nookees fulfills all my criteria, and more. I'm not harming nature anymore, and with my purchase I contributed to ease the effects of period poverty. Nookees are way more than period panties. They support my values and I love to gift them to my favorite friends.
Nachhaltigkeit kombiniert mit klugem und schlichten Design
Ich habe vor einiger Zeit das Nookees Kit für meine Tochter gekauft. Sie hat zwar noch nicht die Periode, dennoch wollte ich sie bereits präventiv mit Nookees ausstatten, damit sie, wenn ihr Körper soweit ist, ihre Menstruation so easy wie möglich erfahren kann. Ich mag das kluge Konzept und das schlichte Design! Der Nachhaltigkeitsaspekt hinter dieser Periodenunterwäsche ist einfach unschlagbar und die Verarbeitung ist jeden Cent wert! Shipping ging super schnell und die Verpackung ist absolut toll.
Angenehm auf empfindlicher Haut
Endlich habe ich eine Alternative zu Periodenslips mit Biozide gefunden. Das Tragen der Stoffbinden war anfangs etwas ungewohnt. Aber meine sehr empfindliche Haut war sehr dankbar. Auch dass die Pads bei 60 Grad gewaschen werden finde ich großartig. Schade, dass der Slip dafür nicht geeignet ist..denn vom Standpunkt Hygiene aus betrachtet fänd ich das noch besser.
Liebe Anna, ganz Herzlichen Dank für Deine tolle Review. Und auch für Deinen Input bezüglich der PANTY. Du hast vollkommen Recht, und wir sind schon dabei einen Lyocell zu finden, der sowohl unseren qualitativen/ ökologischen Ansprüchen entspricht, als auch bei 60°C waschbar ist. We're on it :-) Viel Spaß mit Deinen nookees!
Simple and comfortable, I am OBSESSED!
Nookees has completely changed my period week for the better. I almost look *forward* to it and I'm not joking! The adorable kit feels like gift basket from the goddess of female power. They are extremely comfortable, hygienic, easy to use and easy to clean, completely leak-proof, and even cute!! And when you know Janina and her team and how much they care for women's health and wellbeing, it's a totally feel-good purchase too.
Die bestsitzende Period Underwear
Seit einigen Jahren trage ich Period Pantys während meiner Periode, aber keine sitzt so gut wie die Nookees. Der Panty, in den man die Pads reinklickt, ist aus einem unfassbar weichen Material, ist hochgeschlossen und drückt nirgendwo unangenehm ein. Man kann sich super in dem Panty bewegen. Die Pads haben dieselbe Farbe wie der Panty und lassen sich super leicht im Panty befestigen. Nichts rutscht, sodass man sich beim Tragen sicher fühlt, dass das Menstruationsblut auch wirklich im Pad landet. Nach dem Waschen sieht das Pad aus wie neu.
Nicht nur die Nookees begeistern mich, sondern auch Janina und wie sie unterschiedliche Projekte unterstützt. Das Thema Menstruation und Hygiene braucht mehr Aufmerksamkeit und dank Janina bekommt es das auch. DANKE!