Combine it

THE PAD and THE PANTY. nookees period underwear comes with two components. Double safety, double flexibility.

Click it

3 little buttons - and every bloody thing will be alright. Go for THE PAD you fancy and click it inside of THE PANTY.

X-Change it

Nothing can move. But everything can change. Use it - wash it - and do it all again. Your new PAD is just 3 clicks away.
We make you
click with yourself
our clicking awesome customers
"Great customer care, awesome product, you are doing fantastic."

"Everything is great and I love that, while being at the office, I just have to change the pads. Not the whole panty."

"nookees are much more comfortable than other period panties."

"I am surprised, how easy it is to get them clean in the laundry machine."

"I use it in combination with the menstruation cup, and its a perfect fit."

"Over the moon that there is no chemicals inside and nookees can be washed 60°C."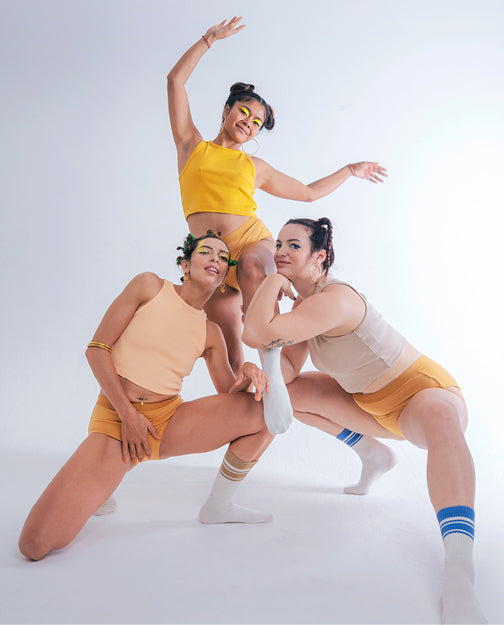 PADS FOR YOU
– PADS FOR HER
From the first second nookees was founded, one thing was clear: we want to support all menstruating people all around the world.
In the past, whenever you bought nookees THE KIT, we donated PADS to people all over the world, that need our support. In the meantime we even go further: proud to say we partnered up with the Toni Garrn Foundation and Girls on a mission to even make a bigger impact. They already built up an amazing health centre in Uganda with a little tailoring.
nookees provides the fabrics and pays the workers a loan to produce their version of nookees PADS and distribute them to everybody who needs support.
The Founder
After travelling the world for six years with my little son Max, I chose cruising through the universe of menstruation as my next adventure.

I got inspired by women in Cuba, who talked in front of their whole group of friends openly about how they menstruate. By the reindeer nomads in Mongolia, that shared their little tipi with us - and how they deal with their menstrual cycle. By the dancers in French Polynesia that moved their hips like nobody else to celebrate and honour their fertility.

Reflecting my own bloody habits every month, I somehow had enough of hiding my period. Of functioning every day of my cycle exactly the same. And I had enough of the reusable period products that I already used. That were uncomfortable (the sweaty feeling) not possible to wash hot (the disgusting feeling) and full of toxic ingredients (the wtf feeling).

From my mind came the idea of coloured buttons having a snappy date with organic fabrics. From my belly the will of inspiring others to live in line, instead against their cycle. And from my heart the call of providing menstruating people access to free period products all over the world.
clicking awesome customer Feedback
"Janina, you're making a huge difference in the lives of women by providing this product and I really believe you are at the start of something amazing! nookees tick all the boxes: eco-friendly, hygienic, ethical, even fashionable! I can't wait to receive the new edition and share with others looking for a better solution for themselves, for factory workers, and for the planet"

"I got thinx and nookees at the same time and I am so much happier about your material and product. Can't help but thinx started to smell after a while and it is so grose"

"Just started using nookees and first time in years I dont have any period pain! Also it feels so much more comfortble to let my blood just flow"

"I wasn't aware that there is women and girls that don't have any period products at all. Beside the fact that I love nookees as a product, I love love the donations you guys are doing in developing countries"

In the beginning it was a bit weird to wash the pads with the rest of the laundry. But now I got so used to it and I love that I can wash them hot. Feels way more hygienic compared to other period panties"

"I tried so many different period panties and I never liked the feeling of them, once they soaked up some blood. I was surprised that with nookees it's completely different and I think its is because of the organic cotton you are using. Feels so much more comfortable. Thank you!"
Join the fight against period poverty! Empower all with the nookees Foundation's mission for education, health, and equality.

Today is a big big day for us – the first half of our produced nookees arrived and they came without any faults ❤️‍🔥 Some of you have been following...

Periods in high temperatures are a mood killer? It doesn't have to be. How to stay fresh through the bloody hot days.
Can I click it?

Yes you can!